We aim to stock products needed immediately for Agricultural Repairs & Renewals in our shop. These range from nuts & bolts to PTO shafts, tools, lubricants & animal requisites.
We have access to thousands of products within 24 hours.
Please have a look at the following suppliers websites,
Message from Kramp "As a one-stop supplier of spare parts, technical services and business solutions, we are a strategic partner for agricultural, landscaping and forestry companies, as well as for the earth-moving industry sector and OEM companies.We have an extensive product range.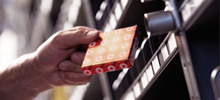 The major advantages for you as a customer are our extensive product range, high stock levels and sophisticated logistics concepts. With 20 branches in 16 countries, and 1300 employees, we ensure that you can always find the right spare parts, wherever you are".
If the items from Kramp are in stock we can order up to 5pm and they will deliver to us the following day.
Please email enquiries to sales@woldsagri.co.uk and we will endeavour to price them and confirm availability the same day.
Showing 1–10 of 232 results